University Research Computing
If you are part of UNC Charlotte's research Community, our computing resources are available for your use.
University Research Computing provides high-performance computing and analytics capabilities to support the research and teaching missions at UNC Charlotte. Our team configures HPC resources as clusters of powerful computers and storage tailored to diverse application requirements. Many applications are pre-installed and ready for use. These resources are provided "as a service" to registered users. Click here to Get Started with Research Computing.
The team also provides consulting and assistance with experimental software and hardware needs. Together, URC supports, configures and ports applications to University resources and liaises between those engaged in research. Additionally, URC offers training for parallel computing (as used at the facility) and administration of local high-performance systems.
What is RESEARCH COMPUTING?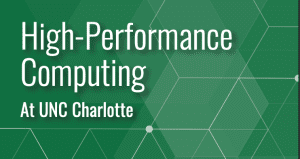 Research computing uses digital technologies as a tool for research and may involve different computational approaches. For example, simulation, which is often closely associated with HPC or High-Performance Computing, performs digital experiments to develop and test hypotheses and theories. Analytics involves processing large amounts of information and applying statistics and other tools to gain insight. Artificial intelligence can be thought of as an advanced form of analytics that emulates human intelligence to analyze data, answer questions or make predictions. These types of computing require large numbers of computers performing computational tasks and exchanging data, and storing it at very high speeds.
At UNC Charlotte, our HPC environment is comprised of research clusters and educational clusters. These Research Computing FAQs may be helpful.
Who should use RESEARCH COMPUTING?
UNC Charlotte faculty can get started with Research Computing to compute or store resources and support. URC also offers Partnership Programs and Technical Consulting.