Niner Ready Laptop Initiative
ALL NEW UNDERGRADUATE AND GRADUATE STUDENTS entering UNC Charlotte are required to have a personal laptop computer to support their college experience. Students can bring a laptop they already have or choose to buy a new laptop from any vendor. Please note: Chromebooks, iPads, tablets, and mobile devices do not meet this requirement.
These recommended hardware specs will ensure you have the power, speed, and memory to be Niner Ready. Be sure to see college-specific IT needs for additional guidance. Finally, if your laptop needs repair, you can take it into the NinerTech Store in the Popp Martin Student Union. See more about repairs.
FOR RETURNING STUDENTS, a personal laptop with these hardware specs is highly recommended.
Niner Ready Laptop Bundles
If you need a new laptop, you can choose to purchase one from any vendor or choose a Niner Ready Bundle from the NinerTech Store. Niner Ready Bundles meet all of the recommended hardware specs and streamline access to on-campus services and support from the NinerTech Store. Bundles include education discounts through the NinerTech Store.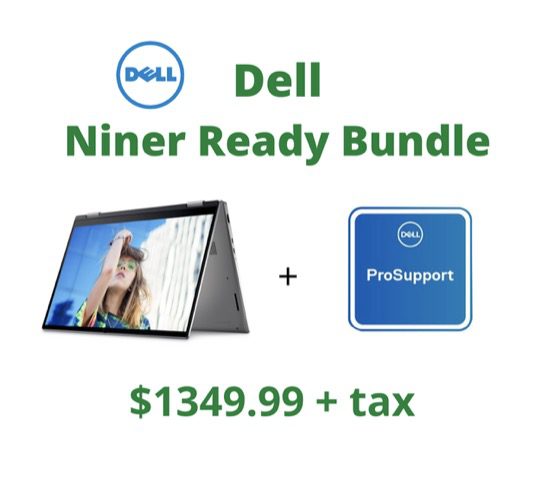 Includes the Dell Inspiron 14 2-in-1 laptop + 4-year Dell ProSupport Plus warranty, including accidental damage on-campus support by the NinerTech Store, and 24/7 Dell tech support for $1349.99 + tax. Click here to learn more.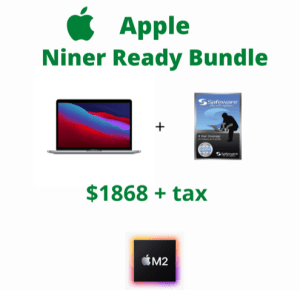 Includes the 13-inch MacBook Pro laptop with Touch Bar in Space Gray + 4-year NinerCare warranty with accidental damage, one year of theft protection, and on-campus support and service by the NinerTech Store. With the Mac education discount* it is $1,868 + tax. Click here to learn more.
Learn more about the IT recommendations of each College. Please note: COA+A students: the NinerReady bundle will not meet your needs; see COA+A college-specific IT needs. Students who use Macs in the Belk College of Business and the College of Computing and Informatics will need the Windows operating system; see the college-specific IT needs for more information.